This post is in partnership with Natalie's Orchid Island Juice Company, but opinions are 100% my own.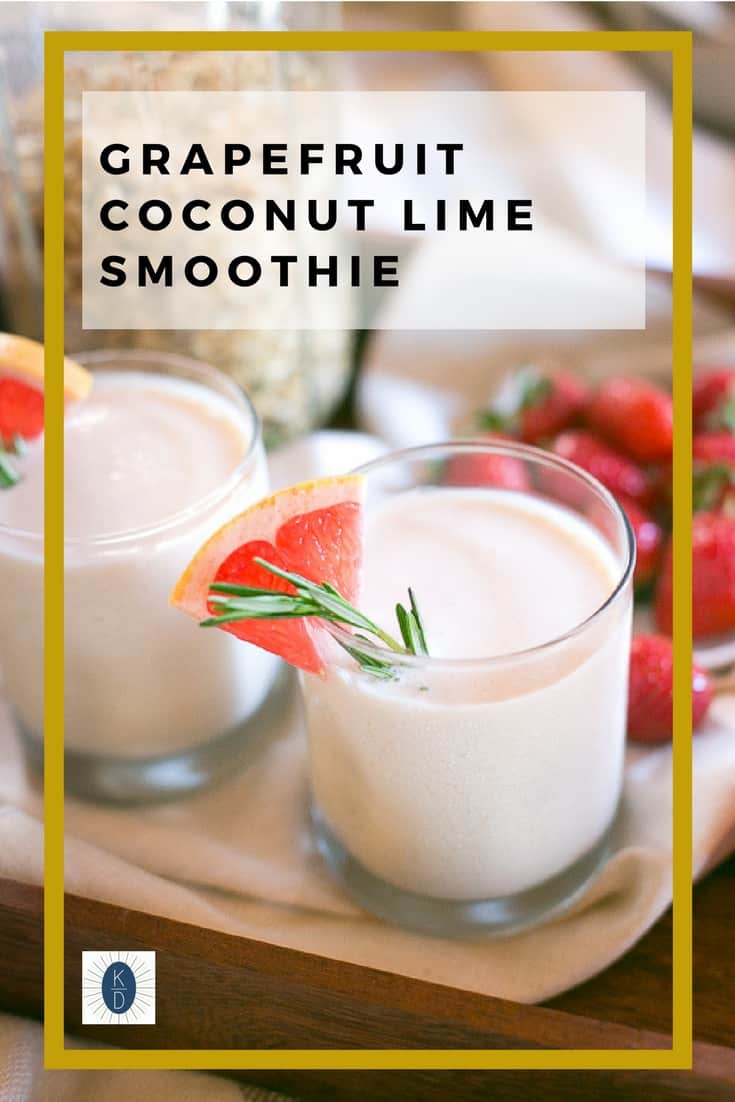 I have been on a big smoothie kick lately. I typically make smoothies like this Grapefruit Coconut Lime Smoothie for breakfast, but I have also been known to scarf one down for lunch when I don't have the time to eat something else. Smoothies can be great power-packed ways to sneak extra fruits, veggies, and supplements into your body. And they can be whipped up in less than five minutes, poured into a cup and carried with you out into your day.
Right now, my go-to smoothie is filled with spinach, banana, nut butter, powdered collagen and chia seeds. It is so good and keeps me feeling full for a long time. No need for a mid-morning snack.
When my friends at Natalie's asked me to develop a  smoothie recipe using their Grapefruit Juice, I decided to go kind of tropical. At the time, we were in the throes of super cold winter weather, so I needed a little escape. This smoothie is a perfect blend of grapefruit, lime and coconut flavors knit together with creamy Greek yogurt and frozen banana chunks. Feel free to sub in non-dairy yogurt if you don't do dairy or are vegan.
Natalie's Grapefruit juice is my most favorite of their juices. I use it a lot in making cocktails like Greyhounds and Palomas. Their juices taste SO good and you never have to worry about any extra junk going into them. They are minimally processed clean juices.
Tip: When I am a good meal planning mode, I like to buy a huge bunch of bananas. If I can score the ones that are marked-down, it's even better because they are sweeter. I peel the bananas, cut them into chunks and freeze them in a single layer on a baking sheet. Once they are frozen, I put them in a large freezer bag. Then, I have bananas ready whenever I need them.
This Grapefruit Coconut Lime Smoothie is almost like having a tasty, but healthy Piña Colada. Who wouldn't like one of those for breakfast? Do you make smoothies? Share some of your favorites in the comments.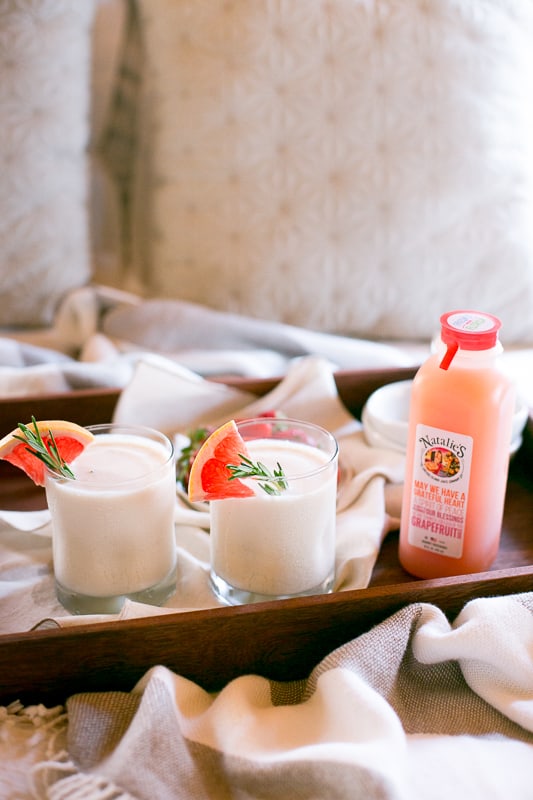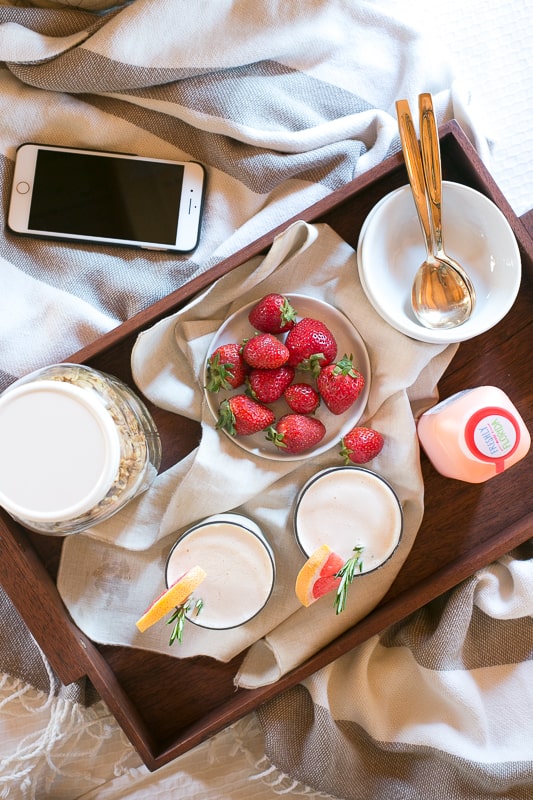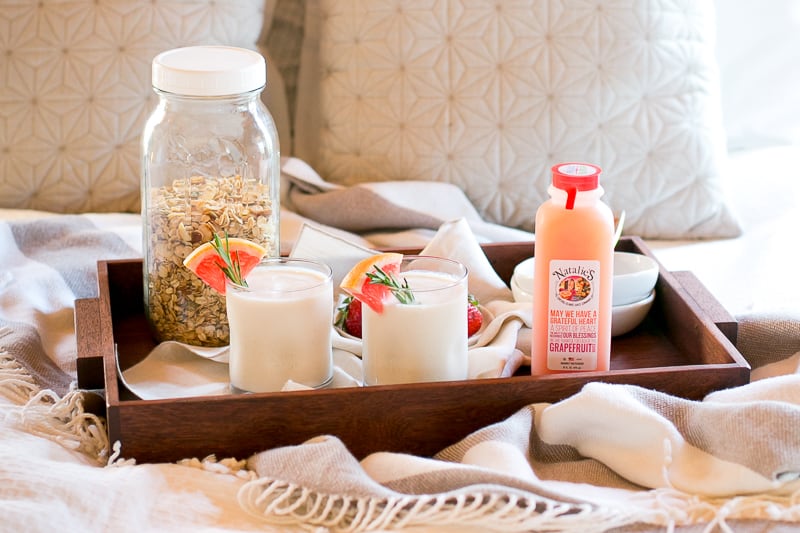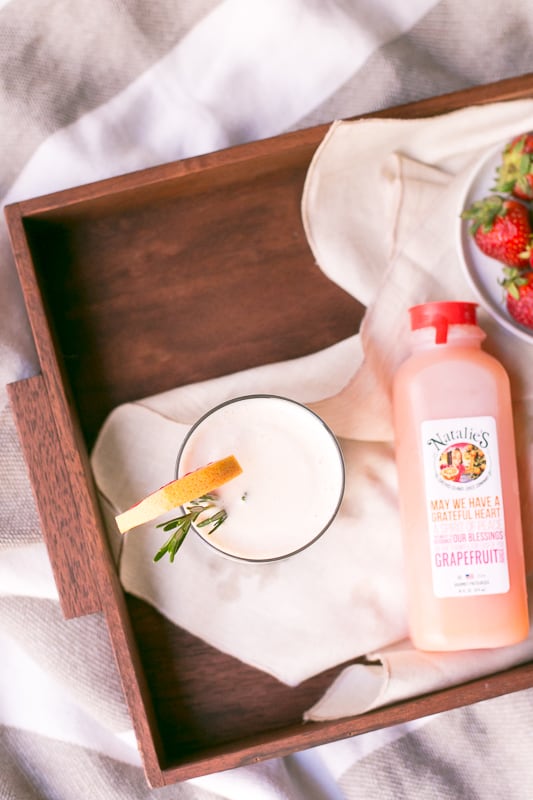 Grapefruit Coconut Lime Smoothie
Ingredients
½ cup Natalie's Grapefruit Juice
1 cup vanilla Greek yogurt
1 banana, cut into chunks and frozen
Juice of one lime
¼ cup of unsweetened coconut flakes
1 TBSP agave nectar, or to taste
1 cup ice
Instructions
In a blender, combine juice, yogurt and banana. Blend until smooth.
Add lime juice, coconut flakes and agave nectar and blend until combined.
Add ice and blend until smooth. Makes two 8 oz smoothies.
6.8
http://www.kimbroughdaniels.com/2018/02/20/grapefruit-coconut-lime-smoothie/